Will women's rights be #UpforDebate?
Dear Tracy,
As Canada launches into its 42nd federal election, thank you for keeping human rights on the agenda. You and thousands of Amnesty International supporters across Canada regularly remind politicians that we expect human rights leadership.

Today we're jumping right in because we have some actions that need your voice, including a call to the federal party leaders to put women's human rights on the election agenda!

---
Will women's rights be #UpforDebate?
Canadian political party leaders face off in the first debate of the federal election campaign. Will women's rights and gender equality be #UpforDebate?
Join Amnesty and over 175 organizations across the country and call on the leaders of all federal political parties to discuss issues like violence against Indigenous women and girls, sexual harassment, and gender-based discrimination.
---
Free Leyla and Arif Yunus
"After 36 years of life together we're in different cells in different prisons…For 36 years we have almost never been apart!" -- letter from Leyla Yunus to her husband Arif
Leyla and Arif, leaders of
the Peace and Democracy Institute,
are voices for freedom in Azerbaijan. After many years of threats, the government charged them with treason and jailed them last year. Amnesty International believes that the charges against them are trumped up.
Leyla has diabetes and kidney problems and her health has deteriorated rapidly. The authorities will not let her be hospitalized or provide the medication she needs.
>> Help reunite this courageous couple. Call on the Azerbaijani government to release Leyla and Arif Yunus immediately
---
British Columbia: Halt Site C!
The planned Site C dam in northeastern British Columbia is one of the largest resource development projects currently planned in Canada.
The construction of the dam and the flooding of more than 80 kilometres of the Peace River Valley would severely impact the First Nations and Métis families and communities who depend on this unique ecosystem.
>>Take Action: Tell the BC government to stop ignoring the rights of Indigenous peoples
---
Human Rights are our Pride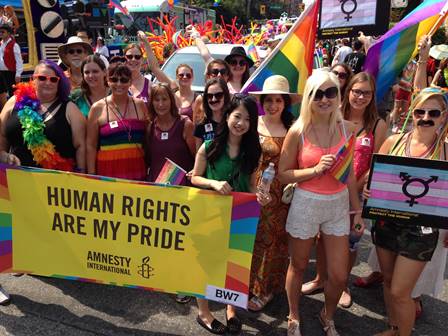 Pride season is well underway, and Amnesty supporters are out in force across the country.
We have much recent news to celebrate. A landmark ruling from the Supreme Court in the United States calling for marriage equality in all 50 states! A successful referendum on marriage equality in Ireland. Discriminatory laws challenged and repealed in a number of countries, and peaceful Pride marches in cities where they've been met with violence and counter marches in the past.
We still have much work to do, so let's get to it!
Find Pride celebrations near you
Join Amnesty's campaign in support of LGBTI rights
---
Burkina Faso: Breaking the barriers to contraception for women & girls
Imagine not knowing that sex could make you pregnant. Imagine finding out how to prevent a pregnancy only after you'd had your third or fourth child. Now imagine being refused contraception – the pill or condoms – just because you don't have your partner's or in-law's permission.
This is the reality for many women and girls in Burkina Faso today. Hundreds of thousands of girls and women in Burkina Faso have been reduced to second class citizens because of forced and early marriage, unwanted pregnancy and lack of access to sex education.
Watch the video to see how Amnesty is addressing the issue​
---
Canada: Amnesty visits the Mt. Polley disaster
This week marks the first anniversary of what has been called the largest mining disaster in British Columbia's history. In the middle of the night, on August 4, 2014, residents say they were awakened by what sounded like hundreds of jumbo jets flying overhead, a sound that continued for hours as millions of litres of tailings water rushed from Mt Polley's mine tailings impoundment into Polley Lake, down Hazeltine Creek, and into Quesnel Lake.
Amnesty International recently visited Likely, BC to research the human rights impact of the breach.
Read reports from the ground in Lively, BC