Thank you for taking action to help free Leyla and Arif Yunus

Thank You!
Dear Tracy,
Thank you for deciding to use your voice todayto call for freedom for Leyla and Arif Yunus.
For more than 50 years Amnesty International has changed the world thanks to people like you. Because when we raise our voices together, we do amazing things.
We prevent torture and wrongful imprisonment. We give strength to brave individuals fighting for human rights against all odds. With the help of your voice, we stop governments and global corporations from abusing their power.
And every action you take, however simple, helps us do it.
We'll send you one high priority case per month, and updates on your impact.

When we campaign for, we take practical, effective action.

We get results because our actions are backed up by impartial human rights research.

Most of all, our voices make a difference because we are 7 million people who take injustice personally

.

Help us be louder today!
Share our campaign on your Social Media
| | |
| --- | --- |
| | |
To learn more and get involved right away with Amnesty International, visit amnesty.ca or connect with us on Facebook and Twitter. We're here for you. If you have any questions, you can call us at 1-800-AMNESTY (1-800-266-3789) or email us at members@amnesty.ca.


Thank you once again,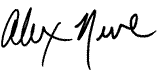 Alex Neve, Secretary General
Amnesty International Canada



p.s. To ensure your actions and updates don't end up in your junk folder, please add us to your address book.