Join me in Miami for the Annual General Meeting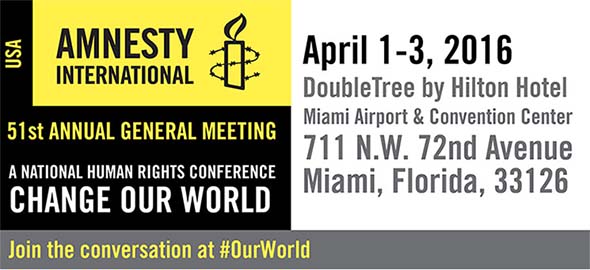 Dear Tracy,
Over the past three years, I have watched Amnesty International activists drive significant change in the struggle for justice and dignity for all.
Change happens in different ways at different times, but there is one consistent feature:
change is driven by dedicated people who want to make a difference.
You can join together with more than a thousand fellow activists in Miami, FL from April 1-3 to share ideas for building and sustaining the human rights movement in your area—and be a part of directing Amnesty International USA in its governance process.*
Learn more about this year's Annual General Meeting (AGM) and human rights conference and register today!
In the past year alone we've seen significant progress in our human rights work, with people like Guantanamo Bay detainee Shaker Aamer being released after 13 years in prison, with the total elimination of the death penalty in four more countries, and with marriage equality victories in the United States and Ireland.
Amnesty International members have driven human rights wins like these and many others for almost 55 years. To support those wins, our AGM and human rights conference is the one time each year that we all gather to build our skills, learn about Amnesty International campaigns, and connect with passionate fellow activists in our movement.
Don't miss out on the AGM as we go into another year of human rights work.
At this year's conference, you'll be able to learn more about organizing and campaigns with session titles such as:
Amnesty International 101
Acting on the Global Refugee Crisis
Building an Inclusive Human Rights Movement
Mothers of Gun Violence Victims—Brazil and the United States
To Be Muslim in America: Confronting Prejudice and Hate
Prison Profiteering: The High Price of Mass Incarceration
Solidarity is Universal: International Organizing Outside the Local/Global Binary
And so many more
See the full agenda and register today.
Please join me in Miami to help build our movement and connect across states and regions. Separate, we are each one voice.
Together, we make a human rights movement that can change our world.
In service,
Rachel O'Leary
Deputy Executive Director
Membership Mobilization Department
Amnesty International USA
*In order to be eligible to cast a vote for resolutions at the AGM, you must be a current dues paying member who joined or renewed your membership no later than February 11, 2016.