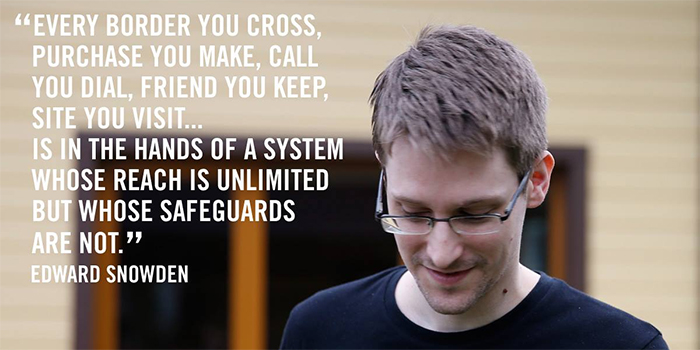 Dear Tracy,

Simple truths can change the world.

Two years ago today, in a Hong Kong hotel room, three journalists and I waited nervously to see how the world would react to the revelation that the US National Security Agency (NSA) had been collecting records of millions of people around the world.

Though we have come a long way, the right to privacy remains under attack. Join me in standing up for our rights: Tell Prime Minister Stephen Harper to log off.
To read the rest of my letter, click here.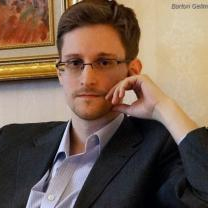 Edward Snowden,
for Amnesty International


---
AMNESTY UPDATES!
Bill C-51: Make the Senate Listen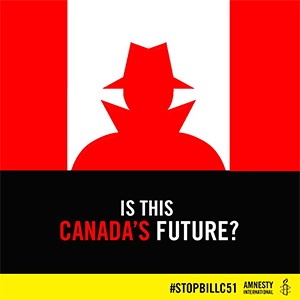 UPDATE: The bill has been passed in the House and is now scheduled for a vote in the Senate

on Tuesday

. The government still need to hear from you!

Bill C-51, The Anti-Terrorism Act, is the biggest overhaul of Canada's national security laws since 2001. Widely expanded powers and new criminal offences raise serious human rights concerns. Laws intended to protect us from threats should not put our human rights at risk.

Join Amnesty's call to withdraw Bill C-51.
---
Alex Neve reports back from his South Sudan Mission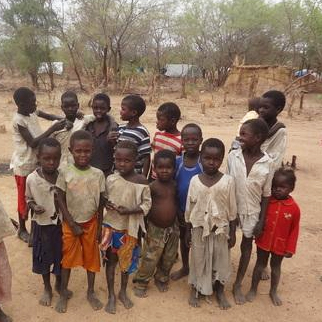 "I have just wrapped up an Amnesty International mission that has been able to cross into the remote Nuba Mountain areas of South Kordofan that are controlled by the Sudan People's Liberation Army - North opposition.

For four years, the Sudanese military has waged a terrifying war against its own people in the besieged state of South Kordofan. The fourth anniversary of this disgraceful human rights crisis approaches next month. It is long past time for the world to finally do something about it."

Continue reading Alex Neve's reflections from the field
---
Take Action to Help a pregnant 10-year-old girl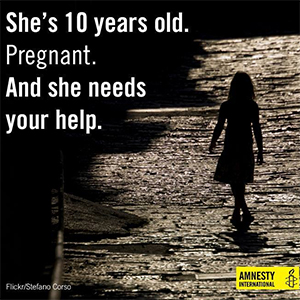 She is 10 years old and she simply thought she had a stomach ache.

But when her mother took her to hospital they discovered she was 21 weeks pregnant; the result of being raped by her stepfather.

The authorities are denying her access to a safe abortion.

Will you take action now?




---
GOOD NEWS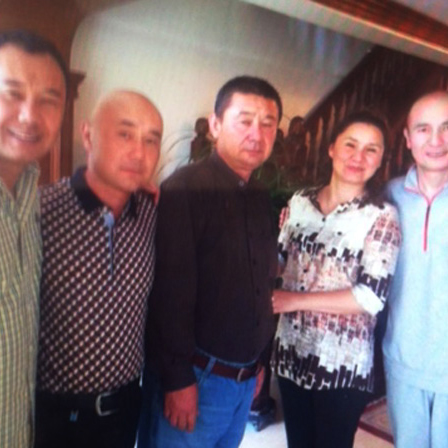 REBIYA KADEER'S SON ABLIKIM HAS BEEN RELEASED FROM PRISON!
Ablikim Abdiriyim was released from prison in China on May 31 after completing his sentence. He's now safe with family. Ablikim's deteriorating health and the harsh prison conditions he experienced, including torture and solitary confinement, make his release even more welcome.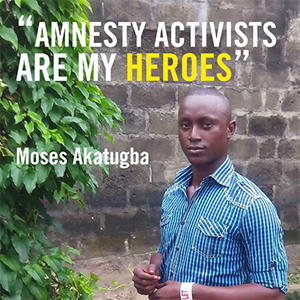 Seven years ago, 16 year-old Moses Akatugba was sentenced to death by hanging for stealing mobile phones in Nigeria. We're thrilled to share that Moses was granted a total pardon on May 28 by Emmanuel Uduaghan, the Governor of Delta State! Thank you to everyone who called on Governor Uduaghan to pardon Moses.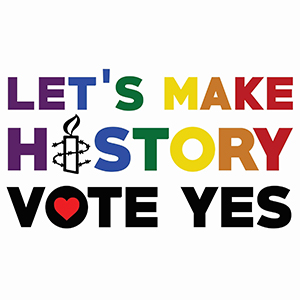 CONGRATULATIONS IRELAND
Ireland Makes History and says Yes to Marriage Equality, making it the first country in the world to introduce full marriage equality following a popular vote! This decision sends a worldwide message of hope to those who fight for justice, freedom and equality.