"Like a dream for me": Raif's wife speaks
Dear Tracy,
Raif Badawi — a blogger in Saudi Arabia — is suffering through a brutal sentence of 10 years and 1,000 lashes, which he received for publishing a website that encourages social and political debate. Amnesty is waging an all-out campaign to release Raif and stop the floggings.
Donate to support our efforts.
Here's what Raif's wife Ensaf asked me to share with you.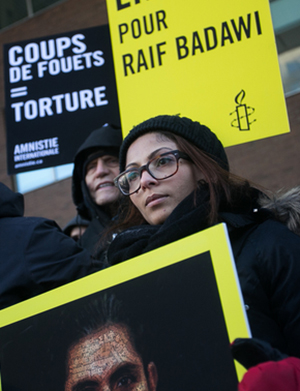 "A year ago, I was trying to organize a protest for Raif — just one — in front of the Saudi Embassy in Canada; only one vigil was like a dream for me!

But recently, and with Amnesty International's activists, this impossible dream became a frequent reality in most of the world's capitals; yes, with your weekly protests you have made this despotic regime postpone Raif's flogging eight times so far.

When I am allowed to speak with Raif directly, I brief him about what is happening and he asks me about the number of sit-ins taking place and their locations.

To you, free people still standing up for Raif, your protests are making a difference! Please do not stop until Raif is released." — Ensaf Badawi, Raif's wife